Heat Pump Water Heater Air to Water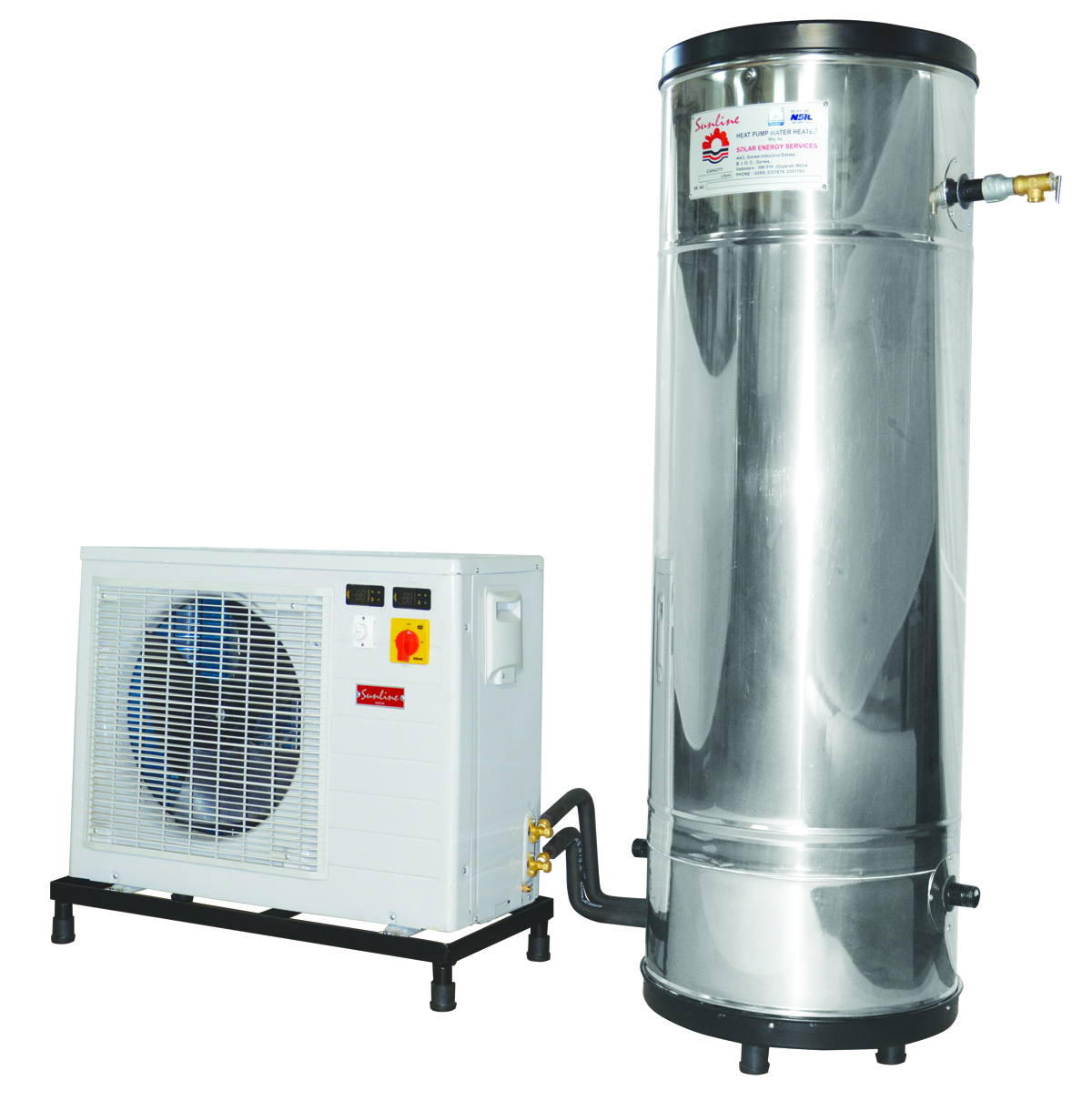 Sunline Launches an innovative water heating technology...
There are many ways used for heating water. But most of them are not energy efficient or not reliable for 365 days. Heat-Pump Water Heater is the most energy efficient and guaranteed way to heat water for 365 days. Heat-Pump Water Heater is combination of renewable and conventional (electrical) energy. Here maximum energy for water heating comes from atmosphere and only fraction of energy comes from electricity. This technological combination will fulfill your need of energy saving and assurance of getting hot water through out the year.
Sunline Heat-pump Water Heater is very different. Here electricity is not converted directly in to heat, rather it is used to move heat from one place to another – air to water, so you get an increased volume of hot water – about 3.5 to 4 times after using one time electric power. You spend rupee & get benefit of 3.5 to 4 rupees.
Coefficient of Performance (COP), is an expression of the efficiency of a heat pump. Higher COPs equate to lower operating cost.
Salient Features
Glass-lined Tank: A new corrosion resistance technology which uses glass enameling on the inner surface of the hot water tank to protect it against hard water
Rigid Tank: This Hot water tank is made from low carbon steel sheet. The sheet thickness of 4-5 mm sustains a presssure of 8kg/cm2.
Weather Protection: The outer cover is made from stainless steel (304-grade) that protects the inner tank during adverse weather conditions.
Magnesium Anode Rod: To enhance the life of hot water tank.
Insulation: Rockwool insulation (LRB) of 50 mm thickness and a density of 100 kg.
IDX Heat Exchanger: The immersed direct heat exchanger – a promising technology, is made from copper and gives more energy factors (EF).
Efficient Compressor: New efficient and reliable compressor with low noise production
High Efficienty: COP-Coeffieient of performance of almost 3-5 to 4, saving significant amounts of energy.
Split Design: Heating unit and hot water tank are separate, easy to install according to availability of space.
Triple Safety: The Thermostat, the scaling warning system, temperature – pressure relief valve.
Environment-friendly: Sunline Heat Pump Water Heater allowas you to move away from fossil fuels sources. Such as – Oil, L.P. Gas or natural gas. It is green – promising technology.
Why Invest in a Sunline Heat-Pump Water Heater:
1. 100% Made in India.
2. The system saves almost 71% of energy and has the shortest payback period.
3. Speedy water heating helps to fulfill the hot water requirement of a family.
4. The Heat-Pump is designed for easy hassle-free, de-scaling & repairing job.
5. Onsite support from company's professional team.
6. Quick service.
Sunline Heat-Pump Water Heater Technical Specifications
| No. | Model | 150 SHP | 300 SHP | 500 SHP |
| --- | --- | --- | --- | --- |
| 1 | Capacity (Ltrs) | 150 | 300 | 500 |
| 2 | Product Configuration | Split | Split | Split |
| 3 | C. O. P. (Coefficient of Performance)* | 3.5 | 3.5 | 3.5 |
| 4 | Operating Pressure | 8 Kg / cm2 | 8 Kg / cm2 | 8 Kg / cm2 |
| 5 | Tank Net Weight (Without water) | 101 Kg | 136 Kg | 194 Kg |
| 6 | Heating Unit | 54 Kg | 59 Kg | 59 Kg |
| 7 | Water Inlet –Outlet­ | 25 mm | 25 mm | 25 mm |
| 8 | Tank ( with leg) | Ø 480 x H 1580 | Ø 710 x H 1370 | Ø 710 x H 2055 |
| 9 | Heating Unit (with stand) | L 860 x W 395 X H 730 | L 860 x W 395 X H 730 | L 860 x W 395 X H 730 |
| 10 | Mains Electrical Connections (V/Hz) | 240 V / 50 Hz | 240 V / 50 Hz | 240 V / 50 Hz |
| 11 | Anode | Magnesium | Magnesium | Magnesium |
| 12 | Advisable Temperature Setting (deg C) | 55 | 55 | 55 |
| 13 | Heating Time (H:min) | 01:35:00 AM | 02:00:00 AM | 03:00:00 AM |
| 14 | Power Inpur ( Kcal) | 1286 | 2571 | 4286 |
| 15 | Power Outpur ( Kcal) | 4500 | 9000 | 1500 |
*ΔT 30ºC. (25ºC. to 55ºC.)
Solar Energy Services ( Sunline)
The innovative company is to providing quality products to meet customers need since past 26 years. With the state-of-the-art manufacturing plant located in Vadodara, Gujarat, India. It has a dedicated water heater manufacturing base. The company's in house glass lining facility on metal tank and a separate quality control department, testifies to the company's persistent for quality products. Our other products are Solar Water Heater, Storage Gas Heater and Wood Fired Water Heater