A Hot Concept, An Outcome of 20 Years in the Business of Hot Water
Sunline Industries is a leading manufacturer of various types of water heating systems with a track record of 20 years. Customer satisfaction is the operative principle at Sunline Industries. Our products - Sunline Solar Water Heater, Sunline Automatic Gas-fiired Storage Water Heater, Sunline wood-fired Storage Water Heater, and Eazy Solar water Heater, and our customers profile speak about our track record.
Sunline Industries now introduces a new product that will harness the sun's energy more effectively and efficiently, a state-of-the art new technology, SUN ONN, a closed loop pressurised Solar Water Heating System that provides the answer to harsh conditions.
Extra Effective and Efficient
The new SUN ONN is designed to transfer the sun's heat to the water more efficiently. A heat transfer liquid runs between the solar collector plates and a jacket type heat exchanger that surrounds the pressurised hot water tank thereby transferring the collected Sunline Industries to the water more efficiently.
Choose SUN ONN When Water and Winter are Harsh
The new SUN ONN is specifically designed for tough challenges such as hard water, water with high chlorine content and harsh winters.
The anti-freezer which is added inside the heat transfer liquid enables the system to work efficiently for years. The system is more resistant to corrosion and therefore has a higher life.
The hot water storage tank is specially treated to further enhance its resistance to corrosion, salt and dilute acids that are damaging in hard water areas.
Heavy-duty SUN ONN Value for money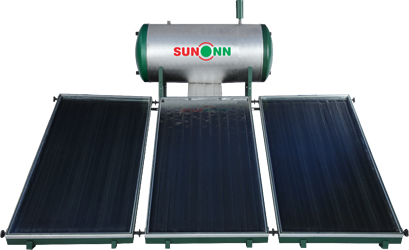 SUN ONN does not require an additional cold water tank. Water is supplied to the Solar Water Heating System straight from the main pressure booster pump. The Solar Collector and the Solar Tank are manufactured to resist the pressure. Since the hot water tank and solar collector are manufactured from heavy material, it costs more as compared to atmospheric systems.
SUN ONN's Larger 100% Copper Collector Makes the Most of Sunshine Hours, Absorbs More Heat
The larger and 100% copper solar flat plate collector absorbs more heat. It is designed that you get hot water even when the winters are harsh.
When you consider that India receives solar energy equivalent to more than 5000 trillion Kwh per year, a quantum that is far more than our total annual energy consumption, you realize how significant this is. The daily average global radiation is around 5 kwh/sq. metre/day during sunshine hours.
Hot or Cold, It's Steady Flow SUN ONN, Ensures a Pleasurable Bathing Experience
Since the water stored inside the hot water tank is always under booster pump pressure, the cold and hot water flow at the same even pressure from the taps and ensures a more pleasurable bath.